Toku Voice Transit Services 
Toku provides wholesale voice transit services into the Singaporean network and other countries across the globe.  Toku permits call origination from a variety of numbering types however there are exceptions based upon each countries numbering allocation specifications. 
Singapore +65 

Mobile numbering services are not virtualised. All mobile numbering ranges within the country (8xxx xxxx and 9yxx xxxx) are only allocated to operators with mobile infrastructure within the country and individually associated to an International Mobile Subscriber Identifier (IMSI) within a Subscriber Identity Module (SIM). 
The below outlines the provisions of how a mobile call can originate from outside of the home country of Singapore.  For partners to be able to utilise Toku`s Voice Transit Services for Singapore mobile roaming, additional documentation must be provided to support Roaming agreements are in place, international transit carriers must ensure that the origin and onward provider operators have such roaming agreements in place to transit such calls. 
Mobile Roaming 
In today's world mobile users are permitted to utilise their local country mobile SIM and travel to a host of other countries to originate and receive calls. This has been concluded by the structures put in place by the Global System for Mobile Communications (GSMA). 
In essence all calls originating from a Mobile require authentication for conducting a call. 
Typically, when a call is made the handset registers itself to the Home Location Register (HLR) of the mobile operators' network and validates the ability to make an onward call. 
In the case where the mobile is not within the home national network then pre-arranged agreements between the home country mobile operator and the visiting country mobile operator are put in place known as Roaming Agreements. 
In accordance with the Roaming agreement between both operators the following two main procedures should be in place: 
HLR and VLR links to validate the International mobile subscriber identity (IMSI) 

Billing methods for Transferred Account Procedure (TAP) 
These processes permit the ability for a mobile to roam outside of its national network.  For the actual call to be transmitted from the visiting country back to the home country their exists 3rd party providers to facilitate such.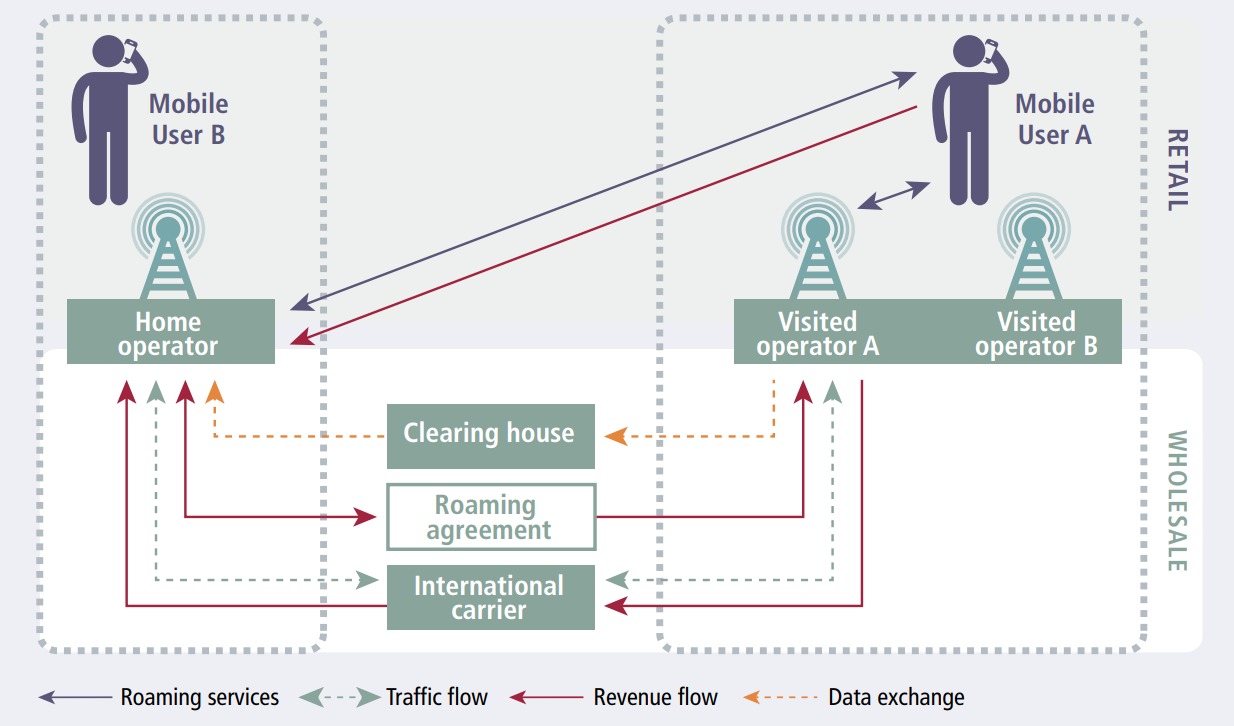 Image source: https://www.gsma.com/latinamerica/wp-content/uploads/2012/08/GSMA-Mobile-roaming-web-English.pdf