Within the site a folder is available to store all associated proof documents associated with the subscription data appended to the data repository.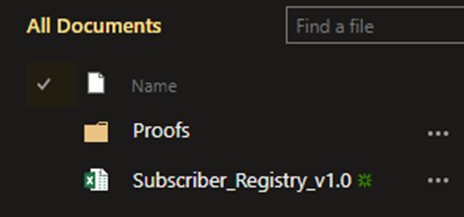 Each proof document is to be stored within this folder.
The types of documents recommended are pdf, jpeg, and MS Word (or similar).
Documents can also be stored within a ZIP file format if file sizing is of a concern or to adhere to your own internal procedures.
The document repository has unlimited storage sizing.
Naming convention
The file naming convention of the documents is to be as follows: "DID_Prooftype"
Where:
DID = the telephone number allocated in E164 format without the + symbol

Prooftype = "BUSREG" where proofs are associated to business registration documentation. Further prooftypes will be shared as and when subscription requirements change by the regulatory body.
For any further assistance please contact regulatory@toku.co